Brillient Awarded DHS Small Business Award 2017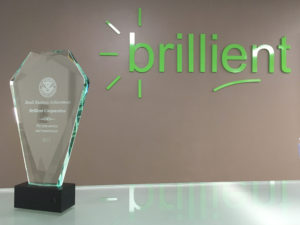 Brillient Corporation is honored to receive the DHS Small Business Achievement Award 2017. This award was made by the DHS Office of Procurement Operations. Highlighted are our achievements in support of USCIS's Records Operations Support Services (ROSS) contract. We are proud to support the DHS in safeguarding the American people, our homeland, and our values.
On Thursday, April 13, Sukumar Iyer – President and CEO – accepted the DHS Small Business Achievement Award on behalf of Brillient Corporation from Mr. Chip Fulghum, Deputy Under Secretary for Management and Ms. Soraya Correa, Chief Procurement Officer of DHS. Brillient was recognized for its excellence as a federal contractor, delivering world class quality and cost savings to the government by going above and beyond on contracted volumes even though on a Firm Fixed Price (FFP) contract.
"While we have received industry awards, it is a special honor to receive an award from our clients in recognition of good value delivered," said Mr. Iyer. "All the credit goes to our wonderful team that works hard every day to make us look brilliant."
For more information on this article, how we can assist you in meeting your mission requirements, or to discuss a strategic industry partnership, please contact Jo Mahaney at Jordan.mahaney@brillient.net or 703-463-9628