Brillient CEO with AFCEA Small Business Advocate of the Year Finalist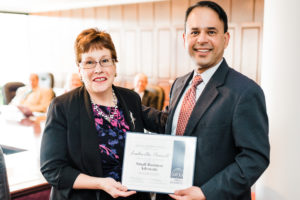 Brillient CEO and President, and AFCEA Small Business Committee Chair, Sukumar Iyer, with Ludmilla Parnell, the Director of Small Business Partnerships at General Dynamics Information Technology, who was a finalist for AFCEA Small Business Advocate of the Year.
The AFCEA Small Business Committee meets every month and allows two small businesses to present their profile to everyone on the committee. They offer venues for training, networking, information on upcoming procurements, contract vehicles, partnering opportunities, and overall help for small businesses. They invite speakers to address the committee and provide information that helps small businesses grow and thrive in the federal contracting arena.